Summer Day Camp
9th Annual Kids in Pink Summer Day Camp!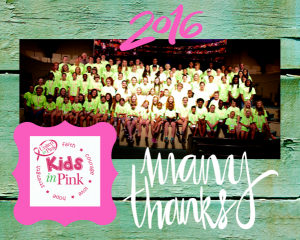 June 26-29, 2017
8:30 am – 4:00 pm
Mabel White Baptist Church
1415 Bass Road, Macon
United in Pink's Kids in Pink Summer Day Camp is an empowering week of fun for local children, ages 4 to 18, whose loved one has been diagnosed with breast cancer. Our camp, along with all our programs and services, is offered at no cost. This unique offering is the only local resource for the children impacted by this disease. It is a memorable experience for all who attend!
Pre-Registration REQUIRED by June 9th. Breakfast, Lunch and Snacks provided daily as well as a camp shirt and supplies.
Please contact us at 478-254-5247 or email Laura with questions regarding our Summer Day Camp.
Donations are also greatly appreciated and needed, so please let us know how you can help.
We are always in need of supplies, gift cards, food donations and monetary donations.